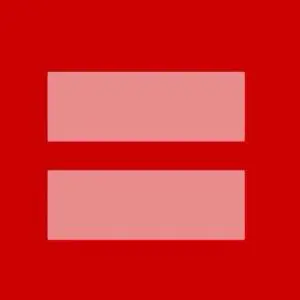 You may have noticed today that some of your friends' profile pictures changed to a red box with a pink equal sign inside it. If you're as confused as I initially was, the mass profile picture switch is a social media strategy implemented by the Human Rights Campaign, whose logo is a box with an equal sign inside it. The HRC "advocates on behalf of [Lesbian, Gay, Bisexual, and Transgender] Americans, mobilizes grassroots actions in diverse communities, invests strategically to elect fair-minded individuals to office and educates the public about LGBT issues." This particular social media strategy is an effort to raise support for those arguing today in the Supreme Court that the definition of marriage should include the union of lesbians, gays, bisexuals, and transgenders. If you're interested, the Wall Street Journal is blogging live as the events of the day unfold.
An effort to approach the issue of gay marriage biblically.
As with every facet of life, Scripture should inform all of the perspectives held by Christians. As I attempted to weigh the efforts of the Human Rights Campaign and those similarly-minded in light of Scripture, I decided to collect my thoughts in a blog post, which I hope helps you in your quest to honor Jesus in your engagement of culture.
Freedom is good… most of the time.
Let it be said that I'm normally a proponent of more freedom. I think adults are wise to wear seat belts, for example, but I don't think they should be forced to do so by the government. I believe that is an unnecessary removal of freedom, and there are probably hundreds of similar examples. There are also, of course, many freedoms for which I don't advocate, and so-called gay marriage is one of them. Here's why.
Marriage isn't mine to change.
Marriage belongs to God. It was His idea. He created it. He owns it. That means that He alone possesses the right to define what it is and is not, and He did:
Then the Lord God said, "It is not good that the man should be alone; I will make him a helper fit for him." Now out of the ground the Lord God had formed every beast of the field and every bird of the heavens andbrought them to the man to see what he would call them. And whatever the man called every living creature, that was its name. The man gave names to all livestock and to the birds of the heavens and to every beast of the field. But for Adam there was not found a helper fit for him. So the Lord God caused a deep sleep to fall upon the man, and while he slept took one of his ribs and closed up its place with flesh. And the rib that the Lord God had taken from the man he made into a woman and brought her to the man. Then the man said,

"This at last is bone of my bones
and flesh of my flesh;
she shall be called Woman,
because she was taken out of Man."


Therefore a man shall leave his father and his mother and hold fast to his wife, and they shall become one flesh. (Genesis 2:18-24).
To legalize gay marriage, then, requires not our passive allowance of it, but our active decision to alter what God alone has the right to alter. In short, the decision to alter the meaning of marriage is not ultimately an act of "love" (love here is in quotes because voting to legalize so-called marriage is actually hateful, but more on this to come) toward man, but of rebellion against God, and we don't want to go there.
God requires every person & society to honor His purposes for marriage and sex.
Second, though not every command found in the Bible should be enforced by earthly governments, there are some that should. Our Declaration of Independence does a good job describing the scenario in which a law should or should not be passed. It says:
We hold these truths to be self-evident, that all men are created equal, that they are endowed by their Creator with certain unalienable Rights, that among these are Life, Liberty and the pursuit of Happiness.–That to secure these rights, Governments are instituted among Men, deriving their just powers from the consent of the governed, –That whenever any Form of Government becomes destructive of these ends, it is the Right of the People to alter or to abolish it, and to institute new Government, laying its foundation on such principles and organizing its powers in such form, as to them shall seem most likely to effect their Safety and Happiness…
There are clues here regarding the type of laws that governments should enforce. Governments should enforce laws that secure "Life, Liberty and the pursuit of Happiness" for the individuals who were declaring their independence. So, what happens when the government does not preserve these "unalienable Rights?" The people should alter the government or completely scrap it and start over. Now, this is where it gets interesting. Notice the two values that should be pursued in the altered or new government, values which presumably disappeared in the former government and resulted in the need to alter or abolish it: "Safety and Happiness."
Now, hold that thought and consider with me that Christians are not the only ones whom God holds accountable for preserving a right understanding of marriage. Rather, the Bible indicates that God requires all societies (even utterly secular ones!) to uphold a right understanding of marriage. Just ask Sodom and Gomorrah, which, despite being neither Hebrew/Jewish nor Christian nations, were wiped out partly because of their cultural embrace of homosexual practice (Gen. 19:1-28, Jude 7).
Again, this does not mean that the United States should enforce every commandment found in the Bible, but it does mean that our government should enforce this one, since the holistic embrace of marital and sexual deviancy by a society ensures not societal "safety and happiness," but societal "destruction and misery."
God's creative purposes for marriage are good, true, and beautiful.
Third, God called His pre-Fall creation "very good." And notice that God didn't qualify His assessment, as though it only pertained to certain portions of creation. Rather, the entirety of His creative work was "very good," including His creation of woman for man and His establishment of marriage between them. God saw that woman was wonderfully suited for the man and vice versa, and He saw that the nature of their union was good, true, and beautiful. It did not need to be altered, changed, or amended. To alter, change, or amend God's creative purposes for marriage, then, is not only to assault the infinite wisdom and goodness of God, but is also to introduce immorality, falsehood, and desecration into the world God created.
Is this position hateful?
In light of the these reasons, I do not support gay marriage. It is neither honoring to God nor beneficial for people and/or societies. Of course, such statements invariably invoke the wrath of many, but neither Scripture nor my conscience allow me to support what the Bible says results immorality, falsehood, desecration, and, most horrifically, the defamation and resulting wrath of God upon individuals and even nations.
The original sin repackaged.
If marriage belongs to God, and if God requires everyone to uphold His purposes for marriage, and if doing so results in God's greater glory and the preservation of what is true, good, and beautiful, and (4) if such is both beneficial for and loving toward humanity, then why all the opposition? The answer is found in Genesis 3. The motive to alter the meaning of marriage is not mainly a matter of the intellect, but of the heart, which, like the Serpent, is deceitful (Jer. 17:9) and asks a question not because the answer is unclear, but because it isn't the one our hearts want to hear: "Did God really say…?"
This heart problem, of course, is not an issue unique to the gay marriage discussion or even to homosexuals. It is the issue behind the sins I commit, and is precisely why all of us, whether straight or gay, need the Gospel.
Further reading.
For an excellent consideration of gay marriage and virtually every other facet of political involvement from a distinctly Christian perspective, I highly recommend Politics According to the Bible by Wayne Grudem. For a biblical consideration of homosexuality more generally, I recommend this series of three articles, which you can read here.