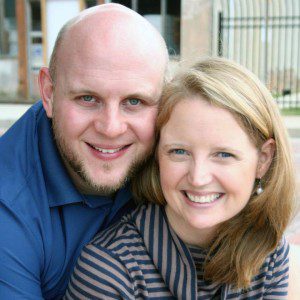 I'm Chad Barnes. I have been a full-time web designer since 2017, although you'd never guess it by looking at this website, which hasn't been redesigned since it launched in 2011 (it's akin to the cobbler's kid having no shoes). Before that, I served for 13 years as the youth pastor at Sylvania Church in Tyler, TX. I started this blog in 2011 mainly as a way to open dialogue with Oasis students and parents about what Jesus has revealed about Himself in Scripture, and how His people should respond to that revelation. In God's providence, the site has actually sparked more dialogue outside of Sylvania Church than it has inside, which has for several reasons proven to be a blessing to me.
I'm very happily married to my favorite woman on the planet, Amanda, who is my greatest helper (Gen. 2:18) and closest friend. I'm also the thankful father of my two kids, Nathan and Rebekah.
At the core of who I am, I'm in constant need of Jesus. I needed (past) Him to be my sin substitute so that I could be made right with God forever, I need (present) Him to work in me so that I can love and enjoy Him, bear spiritual fruit and persevere in the Him to the end of my life here on earth, and I need (future) Him to return for me and take me to the place He has prepared for all who are in Him. As for where I am now, I'm an imperfect lover of Jesus, and, as result, an imperfect lover of His church, His Word, and the unbelieving world, which is infected with the most horrific terminal illness (sin) and is need of the only remedy (the Gospel of Jesus; Rom. 1:16). That said, I'm seeking to, "work out [my] own salvation with fear and trembling, [because] it is God who works in [me], both to will and to work for his good pleasure" (Phil. 2:12-13). In other words, despite all my weaknesses, I'm seeking to grow in Christ-likeness because I trust that God is at work in me (and all His people), empowering to live in ways that I cannot live on my own.
On a lighter note, I graduated from The Southern Baptist Theological Seminary in 2015 and from the University of Alabama in 2002. I thoroughly enjoy playing basketball and am, as you have probably already guessed, a dedicated (though hopefully neither idolatrous nor obnoxious!) University of Alabama fan (Roll Tide!).
I hope this blog serves as a blessing to you and your relationship with the incomparable Christ.